C: OER in the Context of Openness
It can be argued that OER is a subset of a wider concept, open education. Some argue that OER's true potential is improving access to education by making the content relatively inexpensive. Also, it is possible that open courseware is made up of individual OER assets, although this is not always the case. In these instances, OER are the individual building blocks to unlock better access to education. To better understand OER's relationship with 'openness', watch this video.
Why Open Education Matters (2.49 min)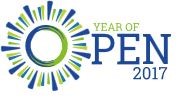 In January 2017, the Open Education Consortium (OEC) announced the launch of the Year of Open to celebrate the positive impacts that open practices have brought to education, government, research and business. In education, the Year of Open marks significant milestones for the Open Education Movement worldwide, including:
'The Year of Open was a global focus on open processes, systems, and tools, created through collaborative approaches, that enhance our education, businesses, governments, and organizations. At its core, open is a mindset about the way we should meet collective needs and address challenges.' Further information on the Year of Open intentions is shared in the video.   
Year of Open intentions (1.26min)

On 18-20th September, 2017, the Year of Open culminated in the second Global OER Conference in Ljubljana, Slovenia. See the following link for more details, http://en.unesco.org/events/2nd-world-open-educational-resources-oer-congress.

How 'open' is your institution? It's interesting to note that even some 'open' universities are not so. Consider these questions:
Are the courses at your institution free or at least subsidised?
Do students have to come to campus to learn?
Can students learn anytime or are there restrictions as to when courses are available?
Can students construct their own programmes from modules across faculties?
Can student take as long as they like to complete their studies?
Are the units transferable to other institutions?
Is your course content released with an open licence?